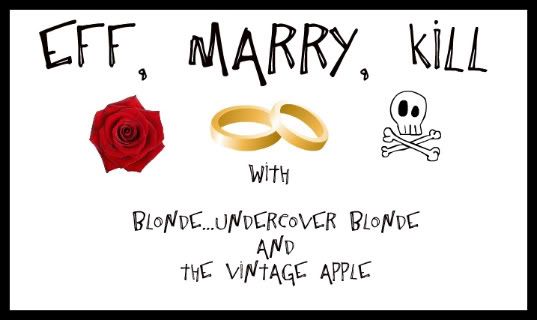 I chose the men of Desperate Housewives
I WAS a diehard Desperate Housewives fan. I NEVER missed an episode... from day one.
Weird...
I know...
Anywho. This whole eff, marry, kill thing is tough for me because these guys all have some serious hotness, some life issues, and some weird traits so I really had to think this through.
I would eff Mike. He's a hot cowboy. Nuff said.
I would marry Carlos. He had a rough start but came up from it and built a successful business and is a loving father. I'll take it.
I would kill Tom. Holy shit he is annoying. Bitching at Lynette 24/7 and all depressed and stuff. Pizzes me off.
Who would you eff, marry, kill?
Link up over at Michelle's blog if you write your own EMK post and leave me a comment so I can see it!